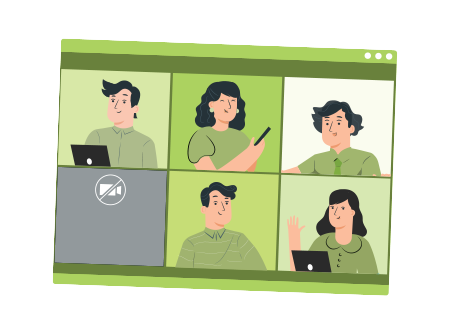 ---
Create and join video calls with a single click. Improve employee and customer engagement with voice and video interactions that create deeper and more personal connections.

Video Conferencing
Try our video conferencing with multiple participants. View the active speaker in the main window and scroll to see other feeds.

Screen Sharing
Show anything on your desktop with Screen Sharing. Annotate using drawing tools, switch presenter and pass control at any time.
Recording and Playback
Easily capture and archive your screen sharing session, audio conference, and primary video feed using the Recording and Playback feature.

Drawing Tools
Mark up, annotate, and call attention to specific areas on the documents and applications you are sharing.

Remote Desktop
Be in the driver's seat. The remote desktop tool makes it possible to take control, support, and collaborate for free.

Chat
Chat with other hosts, all participants, or individuals during your online meeting. You can even send an emoji from our library.
Studio Presentation
Record a presentation in Studio to play back during a conference, or share a link to the recording.

Customisable Login and Registration
Customise the available authentication methods and customise the login and registration pages for your organisation using Markdown.
Guests
Guests cannot see or join streams or calls unless they are explicitly added; perfect for partners, vendors, and temporary contractors. A full suite of tools is available for moderating open communities.

Online Meetings
Boost collaboration and increase productivity. C-Work hosts can access call controls, see the list of participants on the call, show video, and share computer screens, documents, weblinks, or presentations.

Join from Any Device
Easily host or join a fully featured meeting through a browser, computer, or mobile device with a consistent experience across all.
High-Quality Voice + HD Video
Award-winning multimedia experience ensures unmatched audio and visual clarity during virtual meetings to block out distractions.